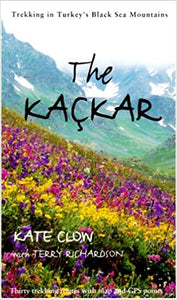 The Kackar
The Kackar-Trekking in Turkey's Black Sea Mountains

2008



Kate Clow
Upcountry
The Kackar Mountains are part of the Pontic Alps, a glaciated, granite mountain range which hugs the south coast of the Black Sea, extending from the Caucasus towards Istanbul. The mountain range is lushly wooded on the north, with pines succeeded at lower levels by chestnut, hornbeam and beech trees, with tea plantations and hazlenut groves spilling down towards the waves. The contrasting southern slopes are patched by summer pastures where black bulls graze and lakes, springs and streams are plentiful and clear.This guidebook and map describes 32 trekking routes in Turkey's Kackar mountains, ranging from half-day walks to multi-day treks. You can cross the passes between the granite spires by paved pack-horse routes or walk traditional footpaths between timeless villages and high pastures where hardy locals graze their flocks. The guide also includes comprehensive historical and cultural details of the area and clear colour photographs. The guide includes a 2 sided full colour contour map, 75cm X 48cm. It is an essential guide for a relatively un-chartered trekking destination.
Today, all along the highway's 2,448-mile length from Chicago to L.A., signs carrying its magic double sixes once again give direction to the journey. Yes, they assure you, this is still Route 66. . . .
More than twenty years after the original publication of Route 66, this completely updated and expanded guide will make the trip along the Mother Road easier and even more exciting. Responding to requests from readers and travelers, Tom Snyder offers up-to-date routings, elegant and easy-to-read new maps, and revised information on roadside attractions. Filled with love, high jinks, and mystery, the stories Snyder narrates truly capture the flavor of the Main Street of America. Cattle rustlers, gangsters, hitchhikers, and ghosts all make appearances in these nostalgic glimpses of history-in-the-making along America's most famous highway.